Wholesale Orders Start Here
Regular price
$0.00
$0.00
To create your wholesale order, first make sure that you are logged into your wholesale account, then start here by selecting your packaging preferences and click "ADD TO CART." You can then head over to the "SHOP" tab and select your bandanas.
Minimum order is $100, or 40 bandanas. You are welcome to choose any combination of patterns and sizes, however many of our wholesale customers prefer to select 4 different patterns, and order 3 smalls, 4 mediums, and 3 larges of each of those 4 patterns. This meets the minimum order requirement and shows well in our cardboard counter display.
At checkout, enter the code "WHOLESALE" to apply your 50% off discount. This code will only work if you are logged in to your approved wholesale account. By placing a wholesale order you agree to our Wholesale Terms.
Note: Our Orange Floral bandanas are not available for wholesale.
We can make any order possible!
-Want a custom dog bandana for your store or event? We're happy to help! hello@ccbandanas.com
-Need to place an extra large order? Need a pattern that is out of stock? We can make any pattern, any size, any quantity! Manufacturing time for custom orders is just 2-3 weeks! hello@ccbandanas.com
Our tie-on dog bandanas make it easy to get the perfect fit! Simply fold the square in half diagonally, then fold the top inwards until the front hangs just how you like it!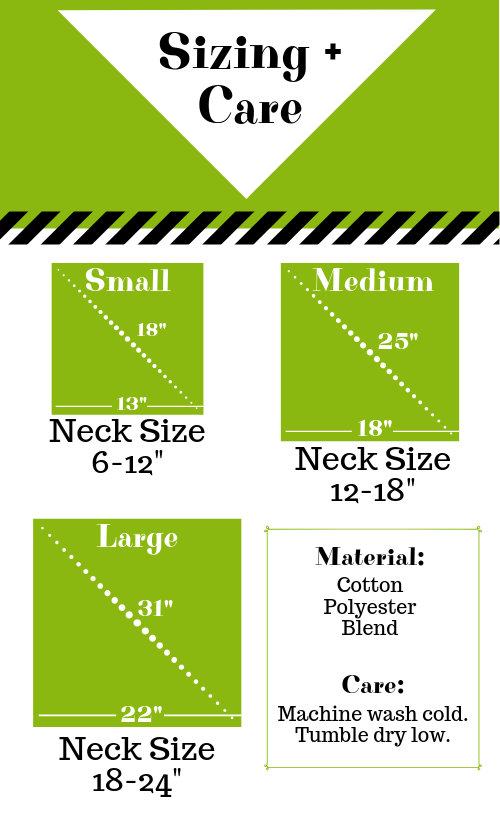 ---
Share this Product