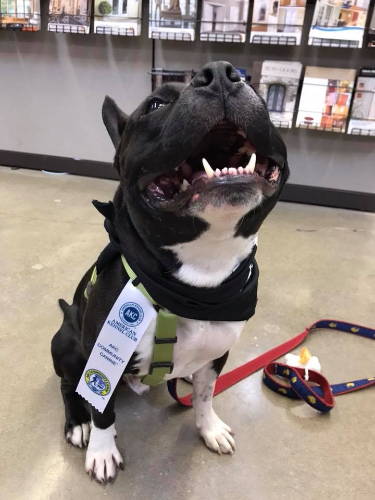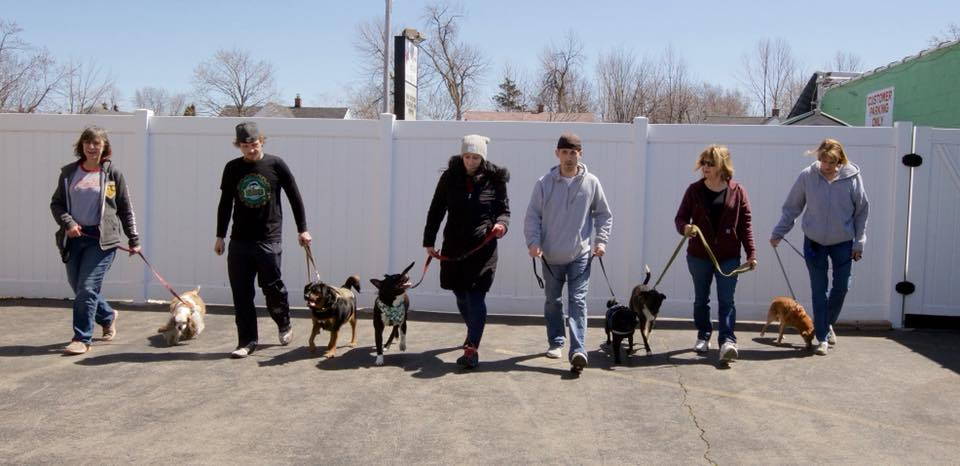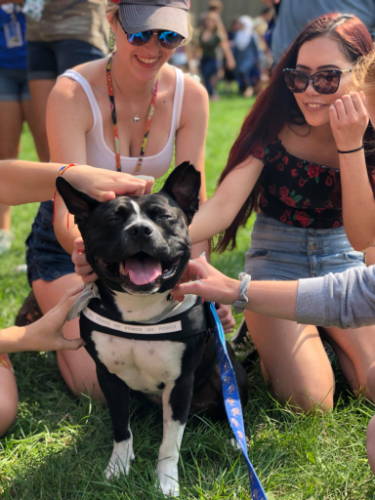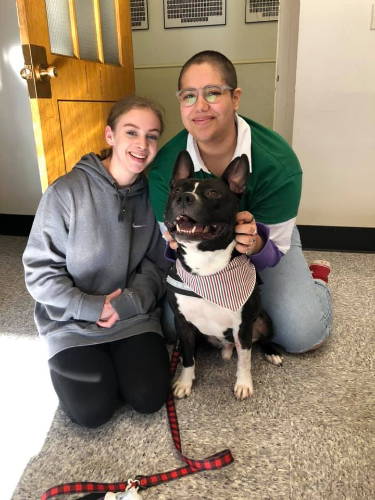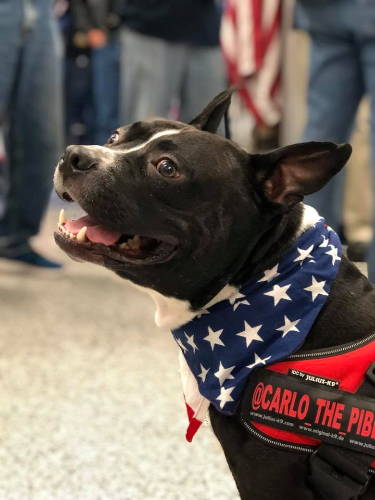 "Was he in a dog fight?"
This is one of the first questions adults ask me when they meet Carlo.
As a cancer survivor, Carlo carries a six-inch scar on the top of his head but because of the way he looks, adults tend to jump to the conclusion that he was used in a dog fighting operation.
As a certified therapy dog team, Carlo and I break down stereotypes of pit bull-type dogs. While our primary mission is to bring comfort to the local community, we recognize each visit is an opportunity to educate our audience about bully breeds.
I adopted Carlo in May 2017 from the City of Buffalo Animal Shelter. I had actually applied and been approved to adopt a Boston terrier (when one became available) through a regional rescue but fate brought me face to face with Carlo and I just knew I had to bring him home. He's just an overgrown Boston, after all.
I quickly recognized something special in Carlo: He LOVED people. Babies. The elderly. Complete strangers. He didn't just tolerate attention; he sought it out and quickly learned how to negotiate butt rubs from anyone whose path he crossed – even total cat people. But he was a little unsettled around other dogs. That reactiveness made me nervous so I decided to seek out a trainer.
In December 2017, after some research and failed attempts with other trainers, we found a wonderful organization called Dog Tags New York. The first class was tough. Carlo was way too excited around other dogs. We had to spend the majority of the time in a separate room where we could learn behind the safety of a gate. By the second class, he was starting to get the hang of it and so was I, and by the third class, we were having a blast. After six months, in June 2018, Carlo passed his therapy dog test. Along the way, he also earned his Canine Good Citizen (CGC) and CGC-Advanced titles. Through this consistent training (which we continue to do), he is now able to work a room with several other dogs.
Therapy dogs are dogs who go with their owners to volunteer in their communities. From working with a child who is learning to read to visiting a senior in assisted living, therapy dogs and their owners work together as a team to improve the lives of other people. (Therapy dogs are not service dogs.)
While there are several national – even global – therapy dog organizations, the SPCA Serving Erie County created its own program called Paws for Love. Because of its local roots, Paws for Love (PFL) is connected to hundreds of organizations in Western New York, including schools, hospitals, assisted-living facilities, the Buffalo Niagara International Airport, and even funeral homes. When the community experiences a crisis, those affected often reach out to PFL to visit their organizations. With more than 500 volunteers, we are able to fill these needs on a daily basis. Because of PFL's reach and flexible nature, it is a perfect fit for us.
Carlo and I have tried to visit as many different types of organizations as possible. We are regulars at the airport, a couple of schools (high schools and colleges are our favorites!), and a local assisted-living facility. Through our work with Dog Tags New York, we've committed to giving back to our local veterans community and in the future we plan to apply to visit the Buffalo VA Medical Center.
Volunteering is awesome and important. Whether you're a high school student applying to colleges or a seasoned career professional, service is not only critical to developing on a basic human level but it also boosts your resume. It's always been a big part of my life but volunteering with Carlo was a total game changer.
I used to struggle with visiting assisted-living facilities. With Carlo by my side, that changed. He's a natural conversation starter. He seeks out attention and he doesn't judge. He not only accepts everyone – even those who don't accept him because of how he looks – but he gives them love. He has taught me so much in just the short time he's been in my life and it's been a privilege to share him with my community.
It's true what they say: Dogs are not our whole lives but they make our lives whole.
You can follow Carlo and our journey on Instagram at @carlo_the_pibble.
---
Are you interested in writing a guest blog post on our site? Email us at hello@ccbandanas.com for more info!